Covid-19 Resources
Nebraska Local Health Department - Contact Information
Nebraska Local Health Department - Map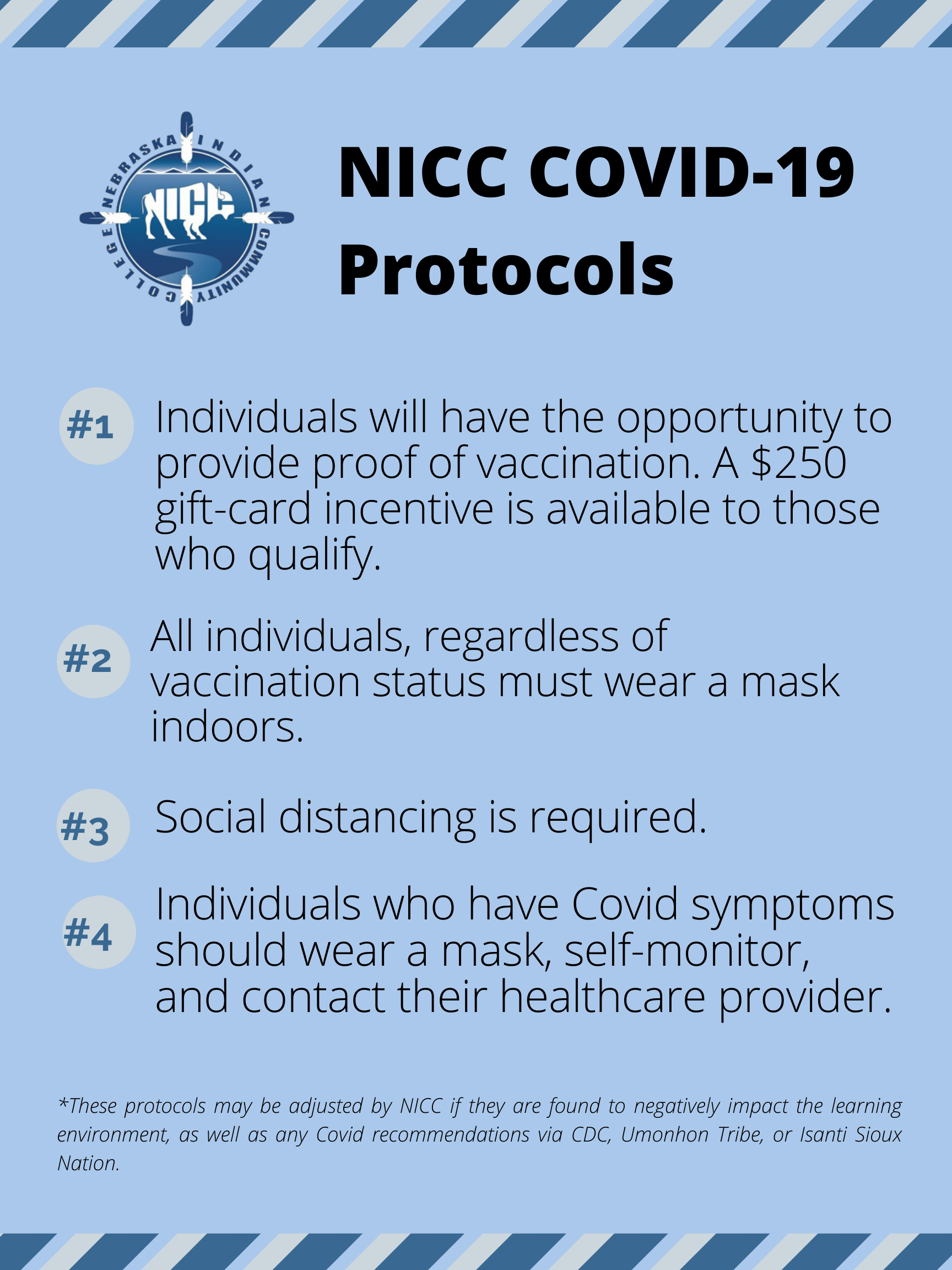 NICC Covid Protocols
1.) Individuals will have the opportunity to provide proof of vaccination. A $250 gift-card incentive is available to those who qualify.
2.) All individuals, regardless of vaccination status, must wear a mask indoors.
3.) Social distancing is required.
4.) Individuals who have Covid symptoms should wear a mask, self-monitor, and contact their healthcare provider.
* These protocols may be adjusted if they are found to negatively impact the learning environment, as well as Covid recommendations via CDC, Omaha Tribe, and/or Santee-Sioux Nation.
NICC Covid-19 Vaccination Incentive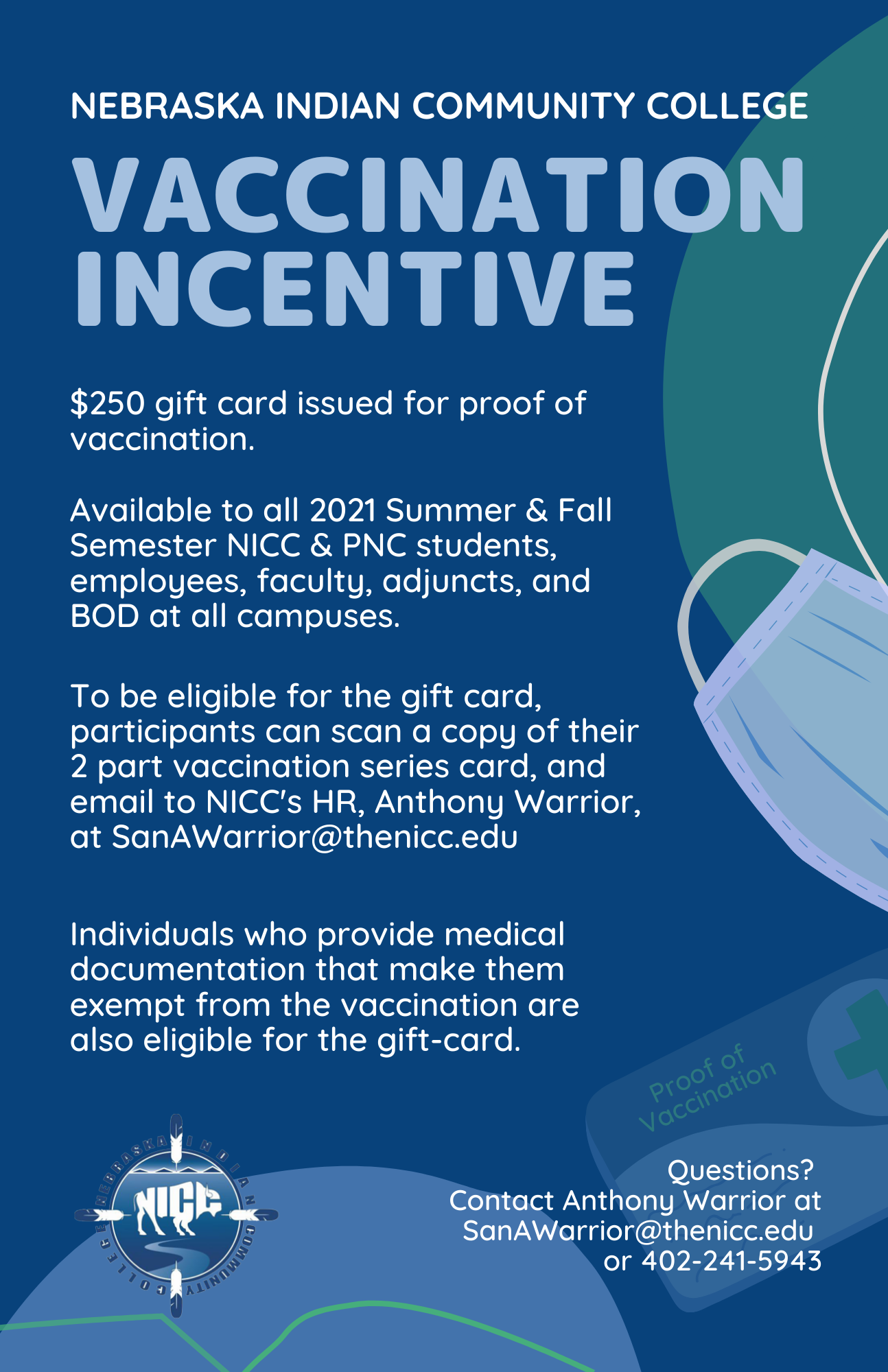 A $250 gift card will be given to those who qualify for the incentive. Participation in this incentive is completely voluntary. For details and questions, contact Anthony Warrior, NICC's Human Resource Director, at SanAWarrior@thenicc.edu
COVID-19 Gift Card $250 vaccination incentive
Reason for incentive: The Nebraska Indian Community College strongly believes that all NICC Board of Directors, NICC/PNC employees and students need to be vaccinated against the Covid-19 virus in an effort to help protect all stakeholders, community, and family members. To encourage increased vaccination rates among our community members, we are offering a $250 gift card to anyone that completes the two-part Covid19 vaccination series.
Requirements to qualify for this incentive:
Individuals must be a board member, current employee or a current enrolled student at Nebraska Indian Community College or Pawnee Nation College. The individual must have received a completed 2-part series of the Covid-19 vaccination.
Procedures: Funds will be administered by NICC for this incentive and are specifically targeted for use for NICC/PNC individuals who work/study on campus or locations where students and staff gather with the goal of achieving Community immunity.
Upon receiving a completed vaccination, please scan a copy of your completed vaccination card to HR at SanAWarrior@thenicc.edu.
NICC and PNC employees located at Macy, Pawnee, Santee, and South Sioux City are eligible for the gift card incentive but must have their COVID 19 shots administered with the completed health card.
Employee's or students who provide professional medical documentation that exempt them from the vaccination will be eligible for the gift card incentive to compensate their efforts.
FEMA's Covid-19 Funeral Assistance Program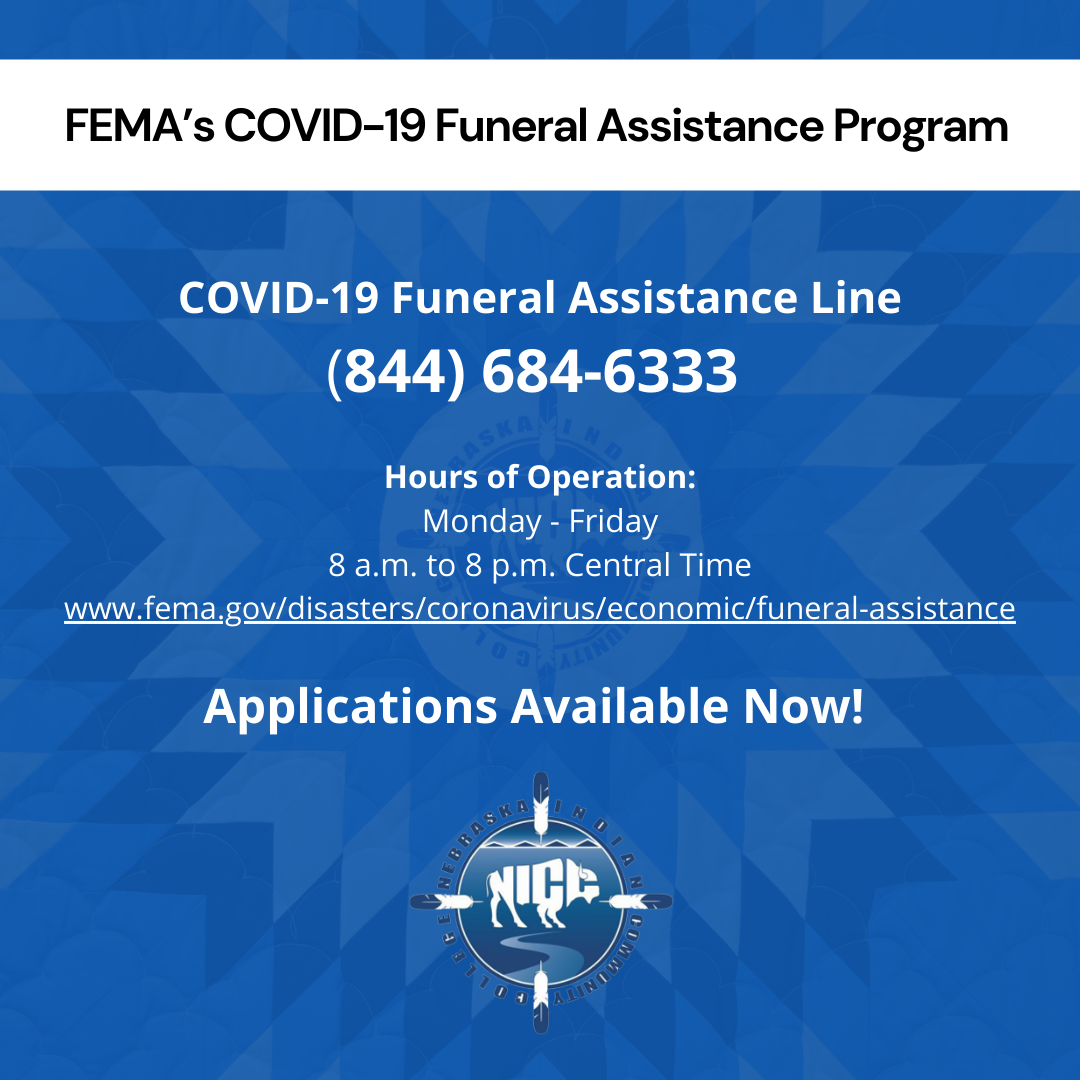 For those who have lost loved ones due to Covid-19, there may be assistance available to help in this time of need.
For more info. call Covid-19 Funeral Assistance Line at 844-684-6333 or check out the link for more info. https://www.fema.gov/disasters/coronavirus/economic/funeral-assistance
Locations to Get Vaccinated/ Learn more about Vaccinations
South Sioux City
Dakota County Health Clinic
Santee
Macy
Pawnee, OK
Pawnee Indian Health Center
Updated Information About Covid
Covid 19 Vaccination Challenge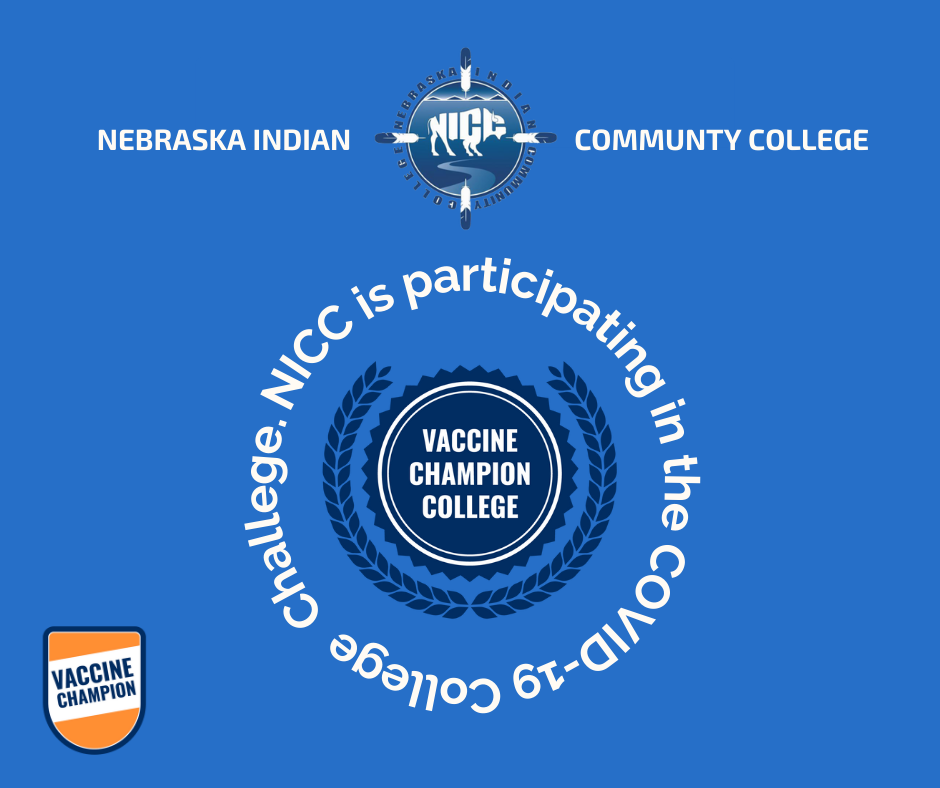 "Colleges participating in the COVID-19 College Vaccine Challenge have raised their hands and committed to taking three key actions:

1. Engage every student, faculty, and staff member. Make sure every member of your campus community knows they are eligible for vaccine and has resources to find one.

2. Organize your college community. Lead the way by identifying champions for vaccine efforts across campus and implementing a plan to get as many members of your college community vaccinated as possible.

3. Deliver vaccine access for all. Meet your community where it is... make it easy for students, staff, and faculty to get vaccinated sites nearby them this summer." - Whitehouse.gov, 2021

For more info. check out https://www.whitehouse.gov/COVIDCollegeChallenge/
Mask Recommended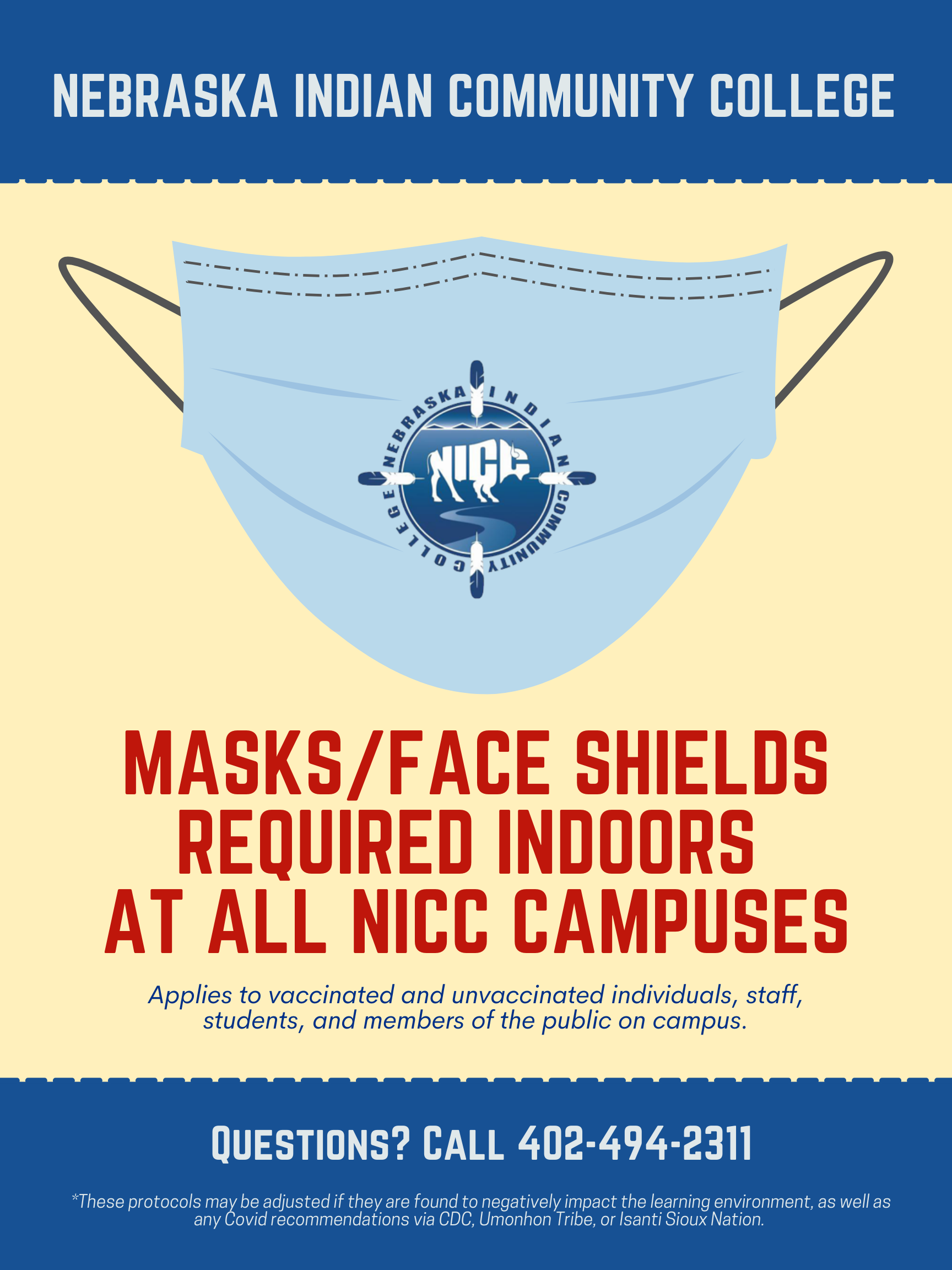 NICC is requiring masks/ face shields to be worn indoors at all NICC Campuses. This applies to vaccinated and non-vaccinated individuals- faculty, staff, students, and members of the public.
These protocols may be adjusted if they are found to negatively impact the learning environment, as well as Covid recommendations via CDC, Omaha Tribe, and/or Santee-Sioux Nation.
8/4/2021
Covid infection rates have been rising. With that rise NICC is taking steps to try to keep everyone safe. Effective on today's date, all people on campus in public indoor locations will be required to wear masks or face shields due to the rise of Covid cases. We will be actively monitoring the situation and will let you know when the mask mandates have been removed. This mandate covers all vaccinated and unvaccinated people, staff, students, and members of the public. The door postings to assist in informing everyone will be put in place again. Thank you for your cooperation and assistance to help keep everyone safe.
Respectfully,
Dr. Michael Oltrogge
President
Nebraska Indian Community College