Scholarships
The Nebraska Indian Community College offers several scholarships established by private organizations and individuals. The criteria and award amounts vary with each scholarship.
Here is a snapshot of Scholarship Sources from the 2022-23 academic year: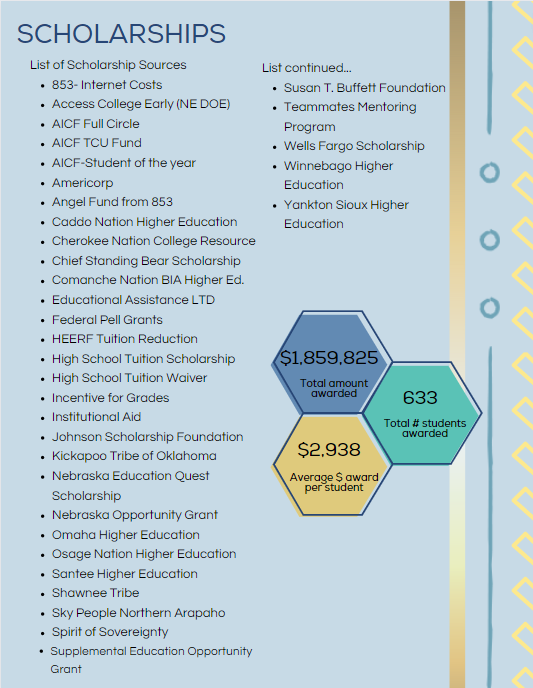 Applications for the following scholarships are available from the Financial Aid Office or campus Advisors.
American Indian College Fund

- The American Indian College Fund provides assistance to learners who demonstrate high scholastic achievement. These scholarships may be awarded to any student who has demonstrated high academic achievement, and has unmet financial need. A portion of this scholarship may be awarded to non-Native students.

Get Help for Life's Unexpected Emergencies. We understand life can be unpredictable. Unexpected costs and needs can cause significant stress and impact your academic success and personal well-being. NICC has a student emergency fund to help keep you on track to reach your academic and career goals.

The Beam Emergency Aid can help you with unanticipated financial emergencies such as car payments, car repairs, car insurance, rent for housing, utilities, and medical and dental.

Students must meet these requirements to be eligible: Approve academic standing or approved probation with an academic plan, verify degree-seeking, verify enrollment in the current term, verify completed FAFSA and verification.
High School Graduate Success Scholarship - NICC offers scholarships to all incoming High School Graduates who are enrolled Native American (descendancy proof also allowed) or Nebraska residents. This scholarship applies to the entire time that the student is enrolled in a degree seeking program so long as the student persists from fall to spring and following fall and spring terms.

Student must be enrolled within 9 months of their high school graduation date or completion of their final general education diploma.

Full time students (at least 12 credits) will be eligible for $1000.00 annually o Students must be enrolled every fall and spring semester until they graduate from NICC.

Students must maintain a 2.0 CGPA. Starting the second enrolled term students will be required to maintain good academic standing.

Nebraska resident or member of a Federally Recognized tribe or show descendancy by providing a birth certificate and parent enrollment (talk to the Registrar's office for additional questions).

Students will not be required to demonstrate need for financial aid.

High School Graduate Scholarship for less than full time or students that do not meet enrollment or residence requirements High School Graduates not attending full time will receive a $500.00 scholarship the first year of enrollment.

Student must be enrolled within 9 months of their high school graduation date or completion of their final general education diploma.

Students will not be required to demonstrate need for financial aid.

Senior Citizens/Elders Tuition Waiver

- NICC offers non-refundable tuition waivers for citizens 55 years of age or older as of the first day of the semester enrolled. Qualifying senior citizens will be charged for fees associated with admission, and registration. Tuition-paying students have priority over senior citizens if the course reaches capacity.
Summer Tuition Waiver

- NICC offers non-refundable tuition waivers for summer semester when students successfully complete their course work. Students are required to seek all Financial Aid possibilities prior to receiving this waiver. Once the summer term is complete the student should complete the form and submit a copy of their grades with it to the Business Office/Student Billing.
Contact your Tribal Higher Education Office for

additional scholarship opportunities

.
AIHEC Student of The Year Scholarship - request an application from your campus Student Support.
Coca Cola Scholarships

- The Coca-Cola Scholars Program scholarship is an achievement-based scholarship awarded to graduating high school seniors. Students are recognized for their capacity to lead and serve, as well as their commitment to making a significant impact on their schools and communities. With the 33rd class in 2021, the Foundation has provided over 6,450 Coca-Cola Scholars with more than $75 million in educational support. 150 Coca-Cola Scholars are selected each year to receive this $20,000 scholarship.
ScholarshipQuest

- This free database contains over 2,000 Nebraska-based scholarships.
United States Coast Guard College Student Pre-Commissioning Initiative (Scholarship Program)

CSPI is a program designed for motivated individuals who demonstrate a high caliber of academic and leadership excellence and who desire to serve their country in the United States Coast Guard.
The Recovery Village Health Care Scholarship

-

The Recovery Village

is dedicated to maintaining exceptional service while providing unique opportunities for education and personal development. As part of this commitment,

The Recovery Village

is offering a $1,000 scholarship to students pursuing a medical-related course of study.

Chief Standing Bear Scholarship -

The

Chief Standing Bear Scholarship

was created in 2017 to support post-secondary education for American Indian students enrolled in a tribe and able to provide proof of tribal affiliation. The story of Ponca Chief Standing Bear's struggle is one of perseverance and triumph over adversity. Chief Standing Bear's exemplary traits can be admired and modeled by current day American Indian youth.

AffordableColleges.com

believe in education's intrinsic value and the right of everyone to pursue a degree. We created our site as a free resource to help everyone address the costs of an education in a way that works for them. There is a path to a reasonably priced higher education.

Financial Aid Programs for Military and Veterans - For decades, the military has helped active-duty service members, reserves, national guardsmen, and veterans attend school by offering educational assistance. The Montgomery GI bill® provides a monthly stipend to service members pursuing higher education or training, and service members can receive these benefits for up to 36 months.

Native Forward -

Native Forward Scholars Fund has empowered over 20,000 students from over 500 Tribes in all 50 states by providing scholarship dollars and support services for undergraduate, graduate, and professional degrees.

Cobell Scholarship -

Indigenous Education, Inc. promotes The Cobell Scholarship's goal to provide applicants and inquirers with the most beneficial information regarding this carefully established scholarship opportunity.

College Board Scholarship List

-

Searchable database of scholarships, which you can narrow down eligibility by your own location and personal demographics.

FastWeb-

National searchable scholarship list - These scholarships will have a larger number of applicants. Use as many specific personal identifiers to help you narrow the search results.
Students are encouraged to complete an on-going Internet search for the hundreds of college scholarships available throughout the year. Students must understand that applying for a scholarship does not necessarily mean the student will receive the scholarship. All scholarships are competitive and are, in most cases, tied to a high grade point average and/or unmet need. All scholarship deadlines are strictly maintained. Most scholarships require a written essay, photo, or other documentation by the applicant.