Active Military and Veteran Students
Getting Started
The application and admission process for veterans is a bit more involved than for typical students. NICC's Student Services Team is eager to guide you so that you don't miss out on any opportunities specific to veterans. Before you apply, however, we encourage you to call, email, or stop by our office.
We will:
Walk you through the application process
Explain the GI Bill®, including benefits and requirements
Guide and assist you and your family in applying for these benefits
Put you in contact with your academic program of interest
Connect you with NICC's admissions and financial aid offices
**Official correspondences are sent to your NICC student email account, so please be sure to check your account often.
Here are some additional resources to get you started:
Credit for Prior Learning
Once you have completed the online admissions application, please provide a copy of your transcripts from the military branch you served to NICC's Registrar. Using the ACE Military Guide as a resource, NICC will determine how your prior learning will work towards your degree.
Veteran Education Benefits
As a veteran, you and eligible dependents are entitled to certain benefits and are eligible to participate in certain programs. If you are qualified and wish to use your Veterans Educational Benefits you must be admitted to a state-approved degree or certificate program and complete the appropriate chapter paperwork. Contact your NICC Campus Student Services Representative for more information.
Standards of Progress
A veteran and/or eligible person must make satisfactory progress toward an approved educational objective leading to employment. Veteran and/or eligible person Standard of Progress will be determined utilizing the Satisfactory Academic Progress policy as listed in the college catalog consisting of overall grade point average, pace, program length, maximum time for completion, attendance and/or conduct.
Federal Tuition Assistance
The Federal Tuition Assistance (FTA) program provides financial assistance to students currently serving in the national guard, reserves, or on Active Duty for voluntary education programs that support professional and personal self-development goals. Enrollment requests must be submitted and approved through GoArmyEd prior to the course start date. All other application and approval questions should be addressed to your unit or the ArmyIgnitED help line at 1-877-272-1330.
FEDERAL TUITION ASSISTANCE: ELIGIBILITY, REQUIREMENTS AND APPLICATION
Nebraska - State Tuition Assistance
Nebraska State Tuition Assistance program is funded by the State of Nebraska and is an educational benefit for Nebraska Army National Guard and Nebraska Air Guard students. This program provides 75% of Tuition up to in-state rate however student must exhaust FTA first. Enlisted personnel only, only to the bachelor's level, must agree to serve an additional 3 years with NEARNG. Payment directly to school upon successful completion of course. Note there are required deadlines prior to course registration.
Nebraska State Tuition Assistance: Eligibility, Requirements and Application
Reservist Tuition Credit Program
Nebraska residents who are enlisted members of a Nebraska-based unit of the Active Selected Reserve may be eligible for a 50% tuition credit to the University of Nebraska campuses, Nebraska state colleges and Nebraska community colleges. This program is allowed 200 new applicants each calendar year.
The University of Nebraska, the Nebraska State College System, and the Nebraska Community College System participate in a tuition credit program that will provide a credit for 50% of the tuition charges for enlisted members of Nebraska-based units of the Active Reserve of the armed forces of the United States; as set forth in NE Revised State Statutes 80-901, 80-902 & 80-903. Note there are required deadlines prior to course registration.
Reservist Tuition Credit Program: Eligibility requirements and application
Graduation
NICC recognizes our graduates who are active military and veterans during the graduation ceremony with a special honor song by the host drum group.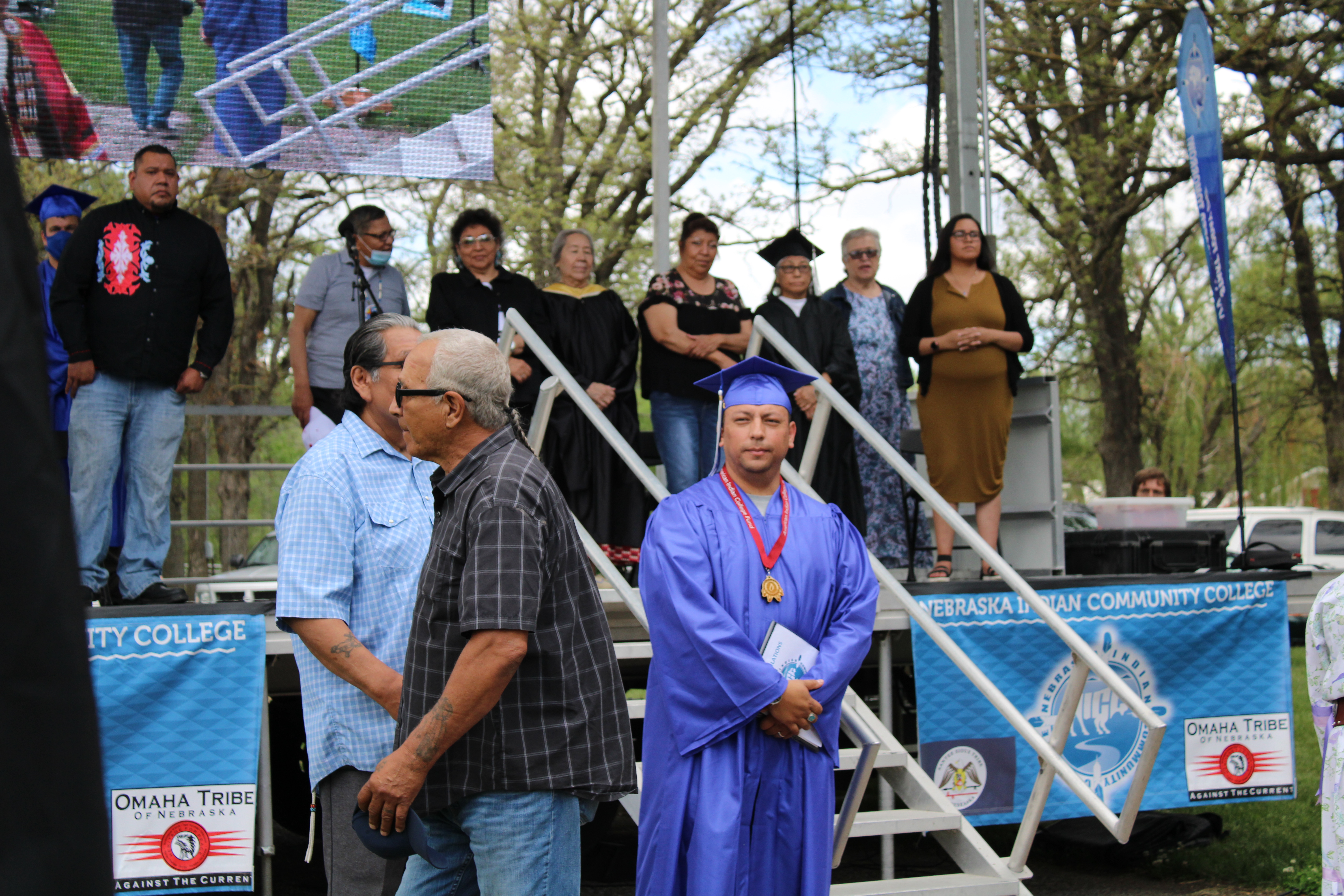 We thank them for their service.
Additional Resources for Active Military Personnel and Veterans:
Department of Defense SkillBridge- NICC offers three host locations (Macy, Santee, and South Sioux City) for SkillBridge participants. Click here to learn more about eligibility requirements.
VA Loan Guide:

VA home loans help military members, veterans and eligible surviving spouses purchase or refinance homes. Due to the many benefits this loan offers, it can be a powerful pathway toward homeownership.

Veterans Taxes Guide: Military Service-Related exclusions and state tax benifits you might qualify for - Tax Guide for Military & Veterans
One Tribe Foundation:

One Tribe Foundation continually hosts workshops centered around non-traditional therapies and various skills training classes.