The Associate of Arts degree in Business with an emphasis in Business Administration is designed for students who are seeking employment in an entry level position in the business field or for students who plan to continue their education at a four-year college in a business related area such as business administration, marketing, accounting, management, or finance. An Associate of Arts degree in Business with a emphasis in Business Administration prepares you to work for various companies whether large or small, public or private, and many more.
This program offers a variety of business courses that are typically transferable to a four-year institution.
Students work closely with their academic advisor to select their courses, furthering their education and transferring to a four-year college, or job placement.
All of NICC's Business Administration Courses meet Nebraska State guidelines, and are easily transferable throughout state institutions. Our courses transfer to programs at: Wayne State College, Bellevue University, University of Nebraska-Lincoln, University of Nebraska-Kearney, Haskell University, University of South Dakota, among others.
Degrees and Certificates Offered
Pathway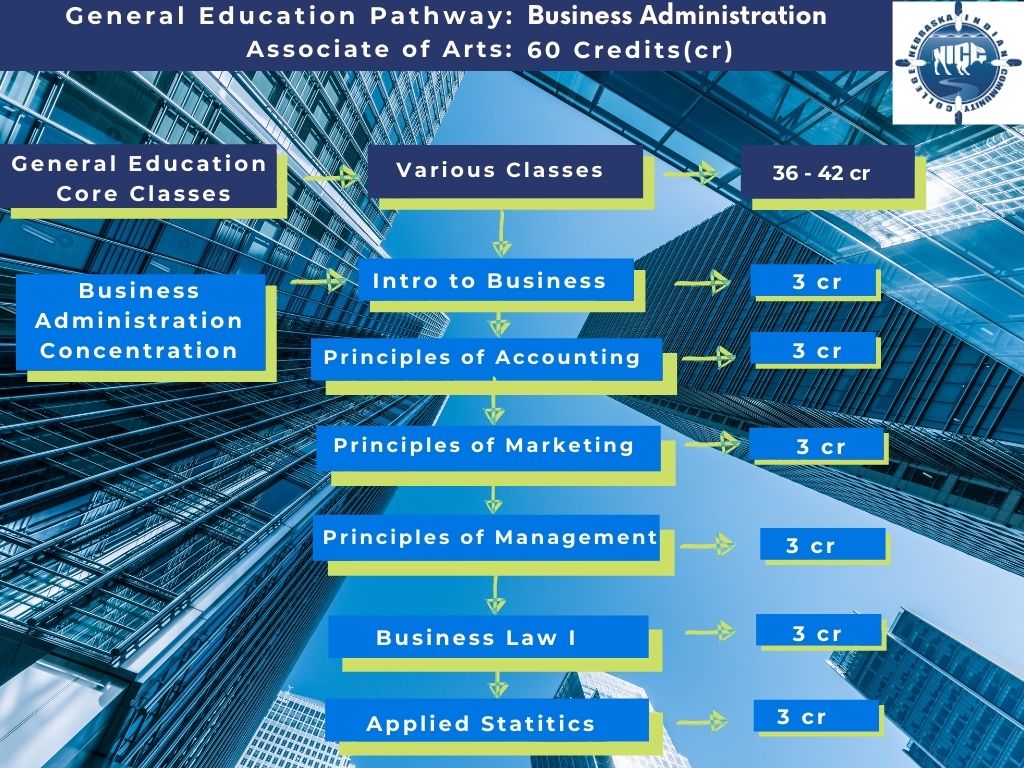 Sample Program of Study
| | | |
| --- | --- | --- |
| Full-Time (12+ credits per semester) | | |
| Year 1- Fall Semester | Credits | Gen Ed/ Core |
| ● EDUC 1010 Student Success Strategies | 2 | ILO 5 |
| ● ENGL 1010 English Composition I | 3 | ILO 2 |
| ● NASP 1410 or 1510 Native Language Level I | 4 | ILO 1 |
| ● BSAD 1050 Introduction to Business | 3 | Core |
| Total Credits by Term | 12 | |
| | | |
| Year 1- Spring Semester | Credits | Gen Ed/ Core |
| ● ENGL 1020 English Composition II | 3 | ILO 2 |
| ● NASP 1040 Nat Am History since 1890 | 3 | ILO 1 |
| ● INFO 1010 Intro to Computers | 3 | ILO 4 |
| ● BSAD 2520 Principles of Marketing | 3 | Core |
| HLTH 1046 AIHEC | 1 | ILO 5 |
| Total Credits by Term | 13 | |
| | | |
| Year 1- Summer Term | Credits | Gen Ed/ Core |
| Any BSAD, ECON, ENTR, & other available | 3 | Elective |
| ANY BSAD, ECON, ENTR, & other available | 3 | Elective |
| Total Credits by Term | 6 | |
| | | |
| Year 2- Fall Semester | Credits | Gen Ed/ Core |
| ● MATH 1110 Intermediate Algebra | 4 | ILO 3 |
| ● BSAD 2050 Business Communication | 3 | ILO 2 |
| ●BSAD 1200 Principles of Accounting I | 3 | Core |
| ● BSAD 2540 Principles of Management | 3 | Core |
| BIOS 1010/1014 General Biology/Lab or CHEM 1050/1054 Applied Environmental Chemistry & Conservation Biology/Lab; or, PHYS 1100/1104 Physical Science/Lab | 4 | ILO 3 |
| Total Credits by Term | 17 | |
| | | |
| Year 2- Spring Semester | Credits | Gen Ed/ Core |
| ● HLTH 2310 Health Education and Wellness | 3 | ILO 5 |
| ●MATH 2170 Applied Statistics | 3 | Core |
| HIST 2020 American History II | 3 | ILO 4 |
| ● BSAD 2700 Business Law I | 3 | Core |
| | 0 | Core |
| ● EDUC 1020 Career Survival | 1 | ILO 5 |
| Total Credits by Term | 13 | |
| | | |
| Total Credits for Degree | 61 | |
| | | |
| --- | --- | --- |
| Year 1- Fall Semester | Credits | Gen Ed/ Core |
| ● EDUC 1010 Student Success Strategies | 2 | ILO 5 |
| ● ENGL 1010 English Composition I | 3 | ILO 2 |
| HLTH 1046 AIHEC | 1 | ILO 5 |
| ● BSAD 1050 Introduction to Business | 3 | Core |
| Total Credits by Term | 9 | |
| | | |
| Year 1- Spring Semester | Credits | Gen Ed/ Core |
| ● BSAD 2520 Principles of Marketing | 3 | Core |
| ● INFO 1010 Intro to Computers | 3 | ILO 4 |
| ●MATH 2170 Applied Statistics | 3 | Core |
| Total Credits by Term | 9 | |
| | | |
| Year 1- Summer Term | Credits | Gen Ed/ Core |
| ● ENGL 1020 English Composition II | 3 | ILO 2 |
| Total Credits by Term | 3 | |
| | | |
| Year 2- Fall Semester | Credits | Gen Ed/ Core |
| ●BSAD 1200 Principles of Accounting I | 3 | Core |
| ● MATH 1110 Intermediate Algebra | 4 | ILO 3 |
| Total Credits by Term | 7 | |
| | | |
| Year 2- Spring Semester | Credits | Gen Ed/ Core |
| ● HLTH 2310 Health Education and Wellness | 3 | ILO 5 |
| ● NASP 1410 or 1510 Native Language Level I | 4 | ILO 1 |
| Total Credits by Term | 7 | |
| | | |
| Year 2- Summer Term | Credits | Gen Ed/ Core |
| ● SPCH 1110 Public Speaking | 3 | ILO 2 |
| Total Credits by Term | 3 | |
| | | |
| Year 3- Fall Semester | Credits | Gen Ed/ Core |
| ● BSAD 2540 Principles of Management | 3 | Core |
| BIOS 1010/1014 General Biology/Lab or CHEM 1050/1054 Applied Environmental Chemistry & Conservation Biology/Lab; or, PHYS 1100/1104 Physical Science/Lab | 4 | ILO 3 |
| Total Credits by Term | 7 | |
| | | |
| Year 3- Spring Semester | Credits | Gen Ed/ Core |
| BSAD 2700 Business Law I | 3 | Core |
| Any BSAD, ECON, ENTR, & other available | 3 | Elective |
| Total Credits by Term | 6 | |
| | | |
| Year 3- Summer Term | Credits | Gen Ed/ Core |
| Any BSAD, ECON, ENTR, & other available | 3 | Elective |
| Total Credits by Term | 3 | |
| | | |
| Year 4- Fall Semester | Credits | Gen Ed/ Core |
| Any BSAD, ECON, ENTR, & other available | 3 | Elective |
| ● EDUC 1020 Career Survival | 1 | ILO 5 |
| HIST 2010 American History I | 3 | ILO 4 |
| Total Credits by Term | 7 | |
| | | |
| Year 4 - Spring Semester | Credits | Gen Ed/ Core |
| | | |
| Total Credits by Term | 0 | |
| | | |
| Total Credits for Degree | 61 | |
Career Pathways Flowchart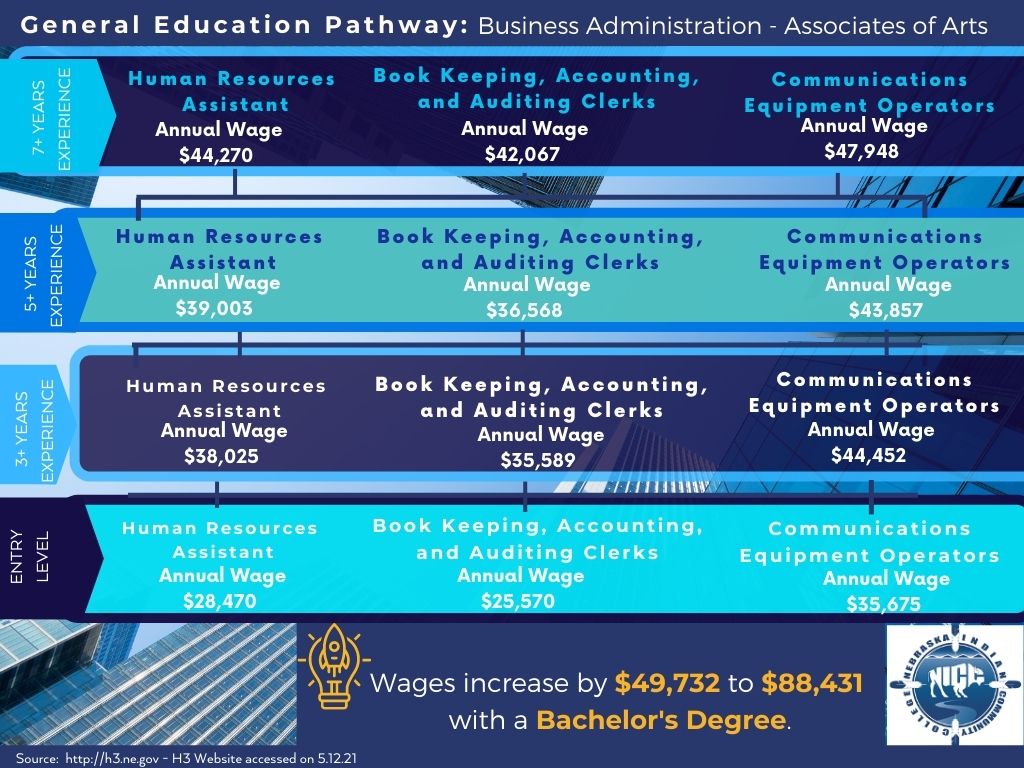 Testimonials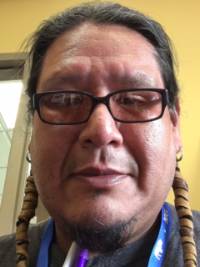 "NICC has afforded me the opportunity to utilize my hands-on past experiences while obtaining operational business tools through classroom work," he explains. "As a non-traditional student, the flexibility, affordability, smaller class size, and a 'work at your own' pace, has made [NICC] a total win-win."
Anthony Warrior (Absentee Shawnee), - Business Administration alumni and NICC Interim HR Director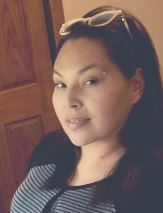 "The Entrepreneurship class helped me become an independent self-sufficient provider for my family. I learned how to organize my personal branding, my creations, gained new connections to my network. "
Jamie Good Bird (Isanti) - NICC student
Internships and Job Shadowing Opportunities
- NICC Marketing Internship
Transfer Pathways
University of Nebraska-Lincoln, College of Business
Faculty in the Division
FAQs
For More Information