---
Financial Aid Policy & Programs

The Nebraska Indian Community College believes that the opportunity for a college education should be within the reach of all interested individuals. The College's financial aid program is designed to assist the student who seeks an education but lacks the means to finance it. One purpose of the Financial Aid Office is to assist students who have a financial need to acquire resources to fund their education. All students who are accepted to NICC and apply for financial aid will be considered for financial aid regardless of race, creed, color, religion, national origin, sex, age, or disability. Students awarded financial aid must make satisfactory progress to continue their eligibility and have documented attendance in all registered classes. Assistance in completing the financial aid application process is available through your local advisor.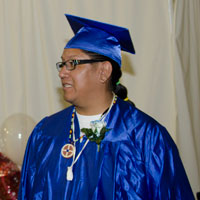 There are several types of financial aid available to NICC students, including:
Federal Pell Grants 
Federal Supplemental Educational Opportunity Grants 
Federal Work Study, campus-based scholarships 
outside/private scholarships. 
Nebraska Indian Community College's school code for the FAFSA is 015339.
ACT College Code:  7953
Certain persons may qualify for special forms of financial aid, such as vocational rehabilitation, veteran's benefits, Bureau of Indian Affairs Higher Education Grants (FAFSA must be completed and strict deadlines) and Adult Vocational Training, and the Workforce Development Act funding.
Early application for all financial aid funding sources is strongly encouraged. A preferred date of 30 days prior to the start of attendance is suggested. All grant and scholarship awards will be credited to student accounts to cover items such as tuition, and fees. If student aid exceeds the educational expense, the excess amount will be refunded to the student according to the NICC financial aid disbursement schedule up to the maximum cost of attendance. Grant and scholarship funds are designed to cover only your educational expense.
Have questions about financial aid 
at a tribal college or university?
Apply to NICC Today!

Thank you for your interest in applying to Nebraska Indian Community College. We welcome applications from all students interested in becoming part of our diverse and uniquely creative community. We look forward to reviewing your application!
Checklist for applying to Nebraska Indian Community College
Submit a complete admission application.
A $50.00 one-time, non-refundable admission fee to be paid to the business office or billed to the student account. 
Submit an official copy of high school or GED transcripts.
Submit an official certificate of tribal enrollment, if applicable.
Submit an official transcript(s) from all previously attended colleges/universities, if applicable. 
Submit a signed Declaration of Major. 
Complete placement testing prior to registration.
Complete a Free Application for Federal Student Aid prior to registration. 
The above admission procedures pertain to all student admissions.
APPLY ONLINE!
The Free Application for Federal Student Aid is available at www.fafsa.ed.gov.
The admission policies are available here.
---
To request a campus tour please contact:
Dawne Price
Dean of Student Services
402-494-2311 ext. 116
DPrice@thenicc.edu
Contact Information
faculty contacts & job opportunities
Visitors & Guests
applications & forms
NICC Information
learn more about our college
Quote of the Day
The Great Spirit is in all things, he is in the air we breathe. The Great Spirit is our Father, but the Earth is our Mother. She nourishes us, that which we put into the ground she returns to us… - Big Thunder