Details

Created on Wednesday, 19 October 2016 00:00
Written by NICC
On October 19th, students from the Student Success Strategies (SSS-100) course from two campuses had the opportunity to visit Wayne State College to learn more about transferring to a four-year institution upon graduating from NICC.
After going on a campus tour and eating lunch at the campus cafeteria, the Admissions Counselor spoke to us about the opportunities available to WSC students. These opportunities include (but are not limited to): over 90 different pro-grams of study, scholarships for tribal college graduates, multicultural affairs, intramural sports, student senate, and other clubs and organizations.
Participating students from South Sioux Campus: Shirlena Saul, Gerry Dobbs Garcia, Anthony Sharpfish, and Aleesha Barthelemy.
Participating students from Macy Campus: Priscila Parker, Jeremy Hardenbrook, and Derrick Grant.
Also in attendance: Nicole Parker (Recruitment and Reten-tion Specialist), Paul Fowler (Vocational and Career Counselor/ SSS 100 Instructor) and Kristine Sudbeck (SSS 100 Instructor)
For more information, please view the following website (https://www.wsc.edu/site/) and speak with your advisor about your interest in transferring after graduation.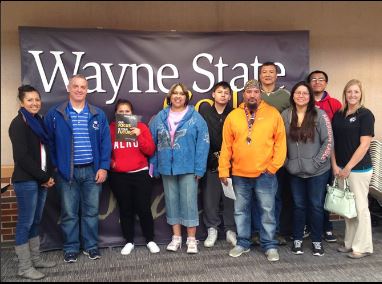 NICC Information
learn more about our college