Details

Created on Thursday, 01 December 2016 21:04
A new publication is in print for learning and preserving the UmoNhoN language. Alice MoNshinhoNthiN Saunsoci, fluent elder and language instructor at NICC for numerous years, in collaboration with linguist Ardis TioNgthehe Eschenberg a former NICC employee have produced a new teaching aid for the UmoNhoN language. The book entitled 500+ Verbs in UmoNhoN (Omaha) Doing Things in UmoNhoN-Way recently went to press and is now available through amazon.com.
Alice and Ardis completed work on the book in the fall of 2015 shortly before the unfortunate passing of Alice a few weeks later. The two had collaborated on language instruction and preservation for 16 years researching and preparing for this publication. The book documents the meaning and conjugations of over 500 different verbs in the UmoNhoN (Omaha) language. The major verb patterns and a basic overview of sentence structure are also discussed.
The project to produce the book was funded by the National Science Foundation and National Endowment for the Humanities grant program Documenting Endangered Languages, award number BCS-1360869, "Discovering Omaha Linguistic Structure through the Documentation of Fluent Elders' Voices." Alice's work to teach and preserve the UmoNhoN (Omaha) language will continue with this publication, benefiting language learners for decades to come. The book will be available at the NICC libraries in mid-December 2016.

500+ Verbs in Umonhon (Omaha)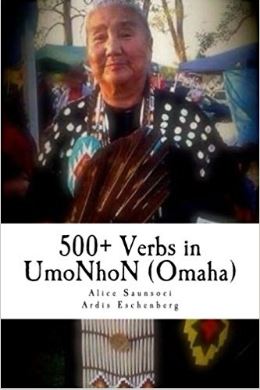 Details

Created on Wednesday, 09 November 2016 21:04

What is Salt?
Salt®, powered by the nonprofit American Student Assistance® (ASA), is an education finance support program that helps remove the financial barriers to higher education so students and alumni can freely and confidently pursue their dreams. Salt leverages ASA's 60 years of experience managing student debt to empower students to successfully plan for, pay for, and repay their higher education.
The program is underwritten by ASA as well as 300 higher education institutions, nonprofits, and employers who partner to successfully guide millions of students and alumni through the financing process. With a combination of financial education, personalized student loan advice, and straightforward budgeting tools, Salt's unbiased advisors help them make smart decisions about education costs so they can achieve a positive financial future. Visit asa.org for more information.
Salt delivers services built around the student—before, during, and after college:
Well-timed, neutral financial education resources, advice, and self-paced courses designed from the student's point of view
Live one-on-one counseling by trained advisors who can answer the students' questions objectively and advocate on their behalf
Easy-to-use tools that help students and alumni monitor and manage their loans and payments online
Help finding jobs, internships, and scholarships
Details

Created on Monday, 31 October 2016 11:39
My name is Will Meier and I am one of the volunteers at Native Youth Standing Strong in Sioux City, Iowa. Native Youth Standing Strong (NYSS) is a nonprofit youth group that meets weekly in Sioux City. Over the years NYSS has partner with NICC on several activities. Jim Hallum, Jackie Hahn, Pierre Merritt and many alumni have been instrumental in the partnering relationship between NICC and NYSS. On Halloween of this year NYSS and NICC once again partnered to create a special night for the youth in our community.
Due to Jackie Hahn and Jim Hallum's efforts we were able to give out one pumpkin to each of the youth that attended the program. We have over 100 people in attend-ance. We had a nice snack that night and
then we then painted the pumpkins and had a pumpkin painting contest where several cash prizes were handed out.
The night was a huge success with many smiles all around. I want to thank NICC and the staff for the great partnership. We at NYSS look forward to our continuing partner-ship with NICC and making our community a better place for all.


This Program is funded in part by a Nebraska Indian Community College Tribal College Grant, Project New Dawn, supported by the National Institute for Food and Agriculture, U.S. Department of Agriculture, under grant Award No. 2014-47002-22149.
NICC Information
learn more about our college