---
Admission Policies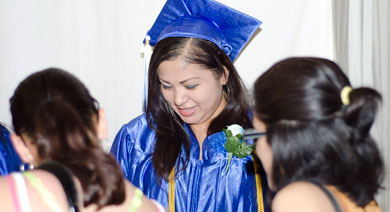 The Nebraska Indian Community College has an open admissions policy. Any applicant who is able to benefit from instruction, and has earned a high school diploma or GED certificate may apply for admission. All applicants are required to meet all the requirements as outlined in the "Admission Procedures" section of this catalog Under the Family Education Rights and Privacy Act of 2002, Section 507 of Public Law 107-56; as amended April 12, 2002, students have certain rights to privacy and protection of information. Students have the right to inspect their records upon written request, and the right to give or withhold their written consent to the release of their educational records under certain circumstances. The Nebraska Indian Community College does not discriminate on the basis of race, creed, color, national or ethnic origin, sex, age, or any other extraneous considerations. Furthermore, the College will not deny access to an otherwise qualified applicant or student because of that applicant's or student's mental or physical handicap. As a Tribally-chartered Indian-controlled institution, the College, in the conduct of its employment program and some categorical grant programs, does reserve the right to exercise Indian preference to otherwise qualified applicants pursuant to Public Law 93-638, the Indian Self-Determination and Education Assistance Act, and the Indian Civil Rights Act of 1968.
Persons wishing to be admitted to the Nebraska Indian Community College must complete the following:
Submit a complete admission application. 
A $ 50.00 one-time, non-refundable admission fee to be paid to the business office or billed to the student account.
Submit an official copy of high school or GED transcripts.
Submit an official certificate of tribal enrollment, if applicable. 
Submit an official transcript(s) from all previously attended colleges/universities, if applicable. 
Submit a signed Declaration of Major. 
Complete placement testing prior to registration.
Complete a Free Application for Federal Student Aid prior to registration.
The above admission procedures pertain to all student admissions.
Apply Online!
The Free Application for Federal Student Aid is available at www.fafsa.ed.gov.
Incoming Transfer Students
Students who have earned college credits at another accredited institution may transfer their credits to NICC. Official transcripts from each previously attended institution are required for an accurate evaluation of transfer credit. Transcripts presented directly by the student are not official and will not be used for the evaluation of transfer credit. Courses transferred into the Nebraska Indian Community College must be at the "C" level or above to be considered for credit. The Registrar will evaluate all official college transcripts for incoming students. Acceptable transfer credits will be within 10 years, applied to a degree, in compliance with NICC's programs of study. Students will be notified of their academic status after the evaluation is complete.
Re-Admission of Former Students
When a period of one or more semesters has elapsed during which a student is not enrolled at NICC, the student must be re-admitted to NICC. However, if the student carries an outstanding bill with the college, a student must work out a payment plan prior to re-admission with the Business Office.
Students who plan to apply for veteran's educational benefits must submit a certified copy of their DD-214 form and proof of marital and dependency status to the Registrar Director in order to be considered for benefits. The NICC Dean of Students coordinates veteran services. It is the responsibility of the student veteran to inform the Admissions/Records staff of their status prior to registration.
Admissions Information
apply to NICC today
Quote of the Day
I have seen that in any great undertaking it is not enough for a man to depend simply upon himself. – Lone Man